Home > Accounting and Tax Guide
What should you know before offering client accounting services?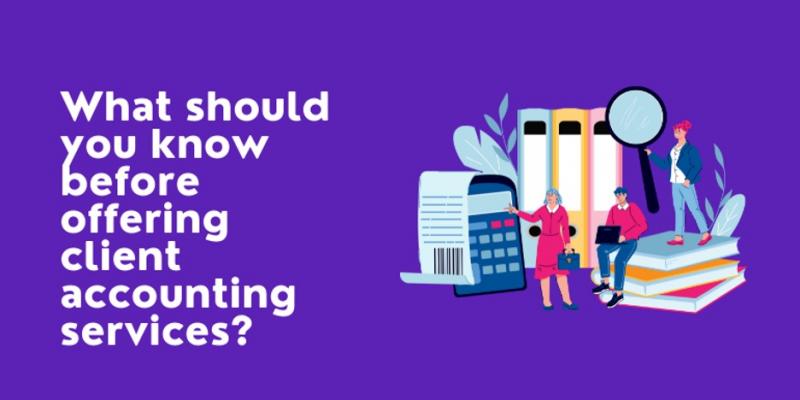 If you are a bookkeeper or an accountant, serving your clients can be a little more complicated than just providing them with financial services.
In fact, it is pretty common for small business owners to ask their accountants and bookkeepers about the possibility of outsourcing their accounting tasks to a virtual assistant. It is where things get a little tricky. Here's what you should know before offering client accounting services.
What are client accounting services and why should you offer accounting services to your clients?
Client accounting services refer to the services accountants provide clients on an ongoing basis. This service is for businesses established after their business plan gets formed. Accounting personnel looking to have a steady cash flow can consider this service niche, especially when they are just getting started.
Accounting services also get offered to small businesses looking to get professional support with the day-to-day financial tasks associated with running a business. These tasks can include bookkeeping, invoicing, payroll management, and tax compliance. Client accounting services can help enterprises prepare and file their taxes correctly and on time.
What should you cover in your accounting service offering?
Client accounting services encompass all of the traditional CPA firm services. The list covers audits, reviews, tax, and consulting services, as well as essential data bookkeeping services, such as payroll, payroll compliance, bill pay, and account reconciliations.
A fully outsourced CFO service could include accounts analysis, cash flow reporting, and budget to actual deviation analysis, among other things. Forms 1099 can also be prepared for your existing clients, both in the client accounting services and tax departments.
In addition, client accounting services assist clients in determining their accounting software requirements and the entailing system migrations.
How will you set your pricing structure for client accounting services?
When deciding on the pricing structure for client accounting services in your firm, there are always two main factors one should consider. The first one is what you set the price at in the first place, and the second factor is how you communicate your fees to the customer.
There are many different methods of doing this, one of which is through hourly price, but another option could be bundling, where you charge a flat fee for a number of hours worked.
Both approaches have pros and cons, thus it is essential to consider which works best for your business model. The first step to deciding the price is to decide on a maximum, minimum, and average for your professional accounting and tax services.
What have been the most recent changes in accounting services to consider?
Technology has truly revolutionized accounting. It has also improved the quality of service that professionals offer their clients. This tech revolution has made things a lot easier for professionals to provide services to our clients, especially when accessing various platforms.
As a young entrepreneur, you need to set up your business to survive and thrive even if you are not around. This fact means setting up systems and processes that will allow you to leave for vacation or pursue other personal interests without worrying about the survival of your business.
Websites like Xero and Freshbooks track sales data automatically and can be integrated with your accounting system to provide real-time data access to clients' sales data. You can operate without the time-consuming data entry required by traditional accounting software.
Benefits Of Using Outsourced Client Accounting Service for small businesses
Accounting firms are on the rise, and there is a reason for that. More companies are shifting to the outsourcing approach for accounting services because it is simpler and cheaper. There are multiple reasons people decide to start outsourcing their accounting services to other countries. Just to name a few, they are looking for cost savings or tax savings, they are looking for more expertise, they are looking for more flexibility, or they need help with specific tasks. The most significant benefit would be cost savings, as the internal need for a full-time staff would be eliminated.
Outsourced services can provide work and knowledge at a significantly cheaper cost. Hiring, training, monitoring, managing, and firing in-house staff come with high costs and time commitments. As a result, a change in a bookkeeper's or accounting personnel can impact all elements of a company.
Join hands with Unison Globus to transform your client accounting service offerings!
As accounting outsourcing services gain popularity, one company has been offering innovative and hassle-free solutions to many business owners. Unison Globus helps you meet all your accounting needs with ease.
We are devoted to providing our clients with reliable finance management solutions at the most competitive prices in the industry. Our financing and accounting outsourcing services combine expertise in handling finance issues with extensive knowledge of global markets. Unison Globus brings you the easiest and the most hassle-free ways to get a grip on your various financial and accounting dilemmas! Contact now!
comments powered by

Disqus